CONQUERING COVID-19
August 25, 2021 • 7 minute read
Indeed Covid-19 pandemic has been upon us longer than expected and is causing a lot of hardship for businesses, families, and individuals alike. Nevertheless, we have learned, and are still learning, to cope with the situation. Number of actions are taken, and safety protocols are under constant review to ensure safe environment for both our trainees and employees. Thus, doing our share to keep Subic Bay Freeport safe for everyone.

Covid-19 Pandemic Actions and Measures
Please see below a summary of actions and measures that we are doing to keep people safe. If you have any questions or concerns, please do not hesitate to Contact us for further information.
We highly encourage everyone to consider our Blended Learning courses. Theory modules are online and hands-on module at Campus when quarantine level and government rules so allow.

GigaMare's vast campus land area and isolated buildings are ideal for necessary social distancing controls while at the facility. Learning is safer and more fun with a breeze of fresh air and nature.

General
Preventive
Since first days of pandemic we formed and implemented first version of the safety protocols for trainees and employees. It has been updated ever since to match with the evolving situation of the pandemic. Further, our Campus is inspected and approved by local authority, Subic Bay Metropolitan Authority (SBMA). Related to above, we have deployed consultative Doctor and on-site Nurse to ensure professional and prompt responses to any questions and situations.
At the Entry and Inside
Mandatory health check and questionnaire at the Campus gate. Only employees and verified trainees are allowed to enter. Most suppliers are not allowed enter to our Campus area. Only food and water deliveries, and those are delivered doorsteps of the buildings only. Visitors are not allowed to enter.
All premises are equipped with Covid information guidelines, hand sanitizing units and are well ventilated. All persons are required to wear mask outside and inside the buildings. Premises are cleaned and sanitized daily during the off-hours to avoid the direct contact.
We follow quarantine level dictated maximum occupation rules in our canteen and we have separated trainee groups and staff with canteen schedule.
In our operations we prefer to use modern meeting tools, such as MS Teams and Zoom, to avoid unnecessary gatherings.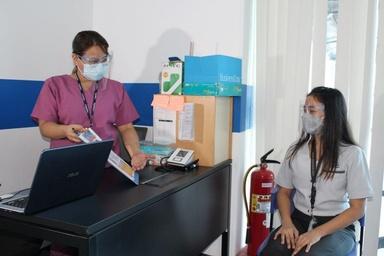 Our company nurse plays an important role in the implementation of health protocols, likewise in aiding everyone's health concerns within the campus.

Trainees
General rules apply and there are trainees' specific measures in place.
Before Entering
It is highly recommended that all trainees have vaccination before coming to Campus. Also, all trainees are PCR tested before entering to Campus. Trainees are waiting PCR test results in isolation, usually in a hotel. All transportation before the PCR test is arranged so that as few as possible persons are traveling together, thus avoiding unnecessary quarantine if positive case emerges.
At the Campus
Trainees are interacting with their class or course mates only, and dedicated instructor. Class sizes are reduced as quarantine level dictates. Depending on the course or programme scope and duration, trainees are encouraged to stay in Campus premises. If exiting, entering back to Campus would require isolation and PCR testing.
There is daily health monitoring in place and Campus has isolation facilities ready if someone is manifesting any symptoms associated with Covid-19. After Doctor consultation most common measure is PCR testing and isolation outside the Campus. If positive case, local government health unit is contacted for further processing.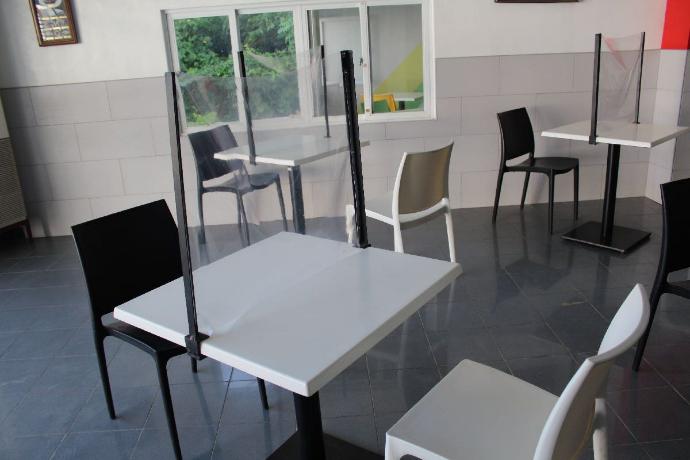 Canteen hours are divided between trainees groups and employees. Social distancing and maximum capacity is followed

Employees
General rules apply for employees as well and they are instructed to be extra careful.
Before Entering
GigaMare is offering vaccination program for employees and their dependents. So that whole household has protection against Covid-19. Only skeletal workforce is present and those who can are working from home.
Employees are coming to work with own vehicles or if company transportation is used, as designated teams. None of employees are allowed to enter the gate nor participate company transportation if any of Covid-19 symptoms are present, or close contact with suspected case or verified Covid-19 patient.
At the Campus
Employees are divided into small teams and scattered around our Campus buildings. These teams are the same for transportation and canteen hours. No contacting or face to face meetings are allowed with other team members.
We hope this answers most of the questions and concerns regarding our actions against Covid-19 pandemic. If you would like to chat or talk more, please do not hesitate to contact Your GigaMare contact person or through our Contact Us page. You can also reach us via email: sales@gigamare.com