Theoretical Course UNIC Controlled X-DF Engines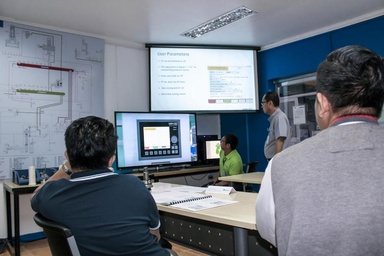 Theoretical Course UNIC Controlled X-DF Engines
Participants will have basic knowledge of WinGD's electronically controlled dual-fuel engine. Particular focus is put on the gas / fuel system, engine control system, UNIC, for the X-DF engines and the integration into the vital engine systems (i.e. fuel injection, liquid and gas fuel system, servo oil and cylinder lubrication, etc.).
---
Info: Duration is 3 days. Valid for the Following Dual-fuel Engine: All UNIC Controlled X-DF Engines

Content of the Course
Introduction to the WinGD technology
Gas safety and properties
Dual-Fuel components
Hydraulic and pneumatic systems
FlexLub cylinder lubrication system
UNIC engine control system
Course Certification

WinGD Approved.

Target Groups
Applicants should demonstrate theoretical knowledge of two-stroke low-speed diesel engines and may have certain operational experience on RT series or similar conventional / common rail engines.
Interested? Please complete the form below, and we will contact You shortly.
Theoretical Course UNIC Controlled X-DF Engines